Diabeter Groningen
Diabeter Groningen
Griffeweg 97 (3rd floor)
9723 DV  Groningen
Tel. 088-2807200
Email: behandelteam-groningen@diabeter.nl
GRONINGEN
Welcome to our type 1 diabetes center in Groningen
The pediatric diabetes teams of UMC Groningen and Martini Hospital are working together in a partnership with Diabeter since 1 November 2016 in a new, specialized center for type 1 diabetes: Diabeter Groningen. 
Diabeter Groningen is open to people with type 1 diabetes who are being treated elsewhere, both children and adults.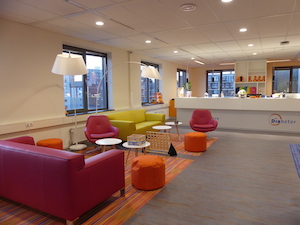 Meet the team
We proudly introduce our team of Diabeter Groningen here. They are all experts in type 1 diabetes care.
Getting to know Diabeter
Would you like to know more about the possibilities Diabeter Groningen can offer you or your child? We will be glad to inform you and answer your questions. Of course we understand that stepping over to a new health provider is not something you take on lightly. We are there for you. Just contact Grada or Katja, our patient communication advisors, and explore the difference our type 1 diabetes care can make. No strings attached.
Ask a question / contact Grada or Katja
Address and accessibility:                      
Griffeweg 97  
9723 DV Groningen
By phone: +31 (0)88-280 7200
Our type 1 diabetes center is about a five-minute walk from the center of Groningen and about 700 meters from the UMCG. 
Diabeter Groningen