Diabeter Groningen
Diabeter Groningen
Griffeweg 97 (3rd floor)
9723 DV  Groningen
Tel. 088-2807200
Email: behandelteam-groningen@diabeter.nl
GRONINGEN
Welcome to our type 1 diabetes center in Groningen
Diabeter Groningen, treatment center for type 1 diabetes The pediatric diabetes teams of UMC Groningen and Martini Hospital have been working together in a partnership with Diabeter since 1 November 2016 in a new, specialized center for type 1 diabetes: Diabeter Groningen. 
Anyone with type 1 diabetes up to the age of 18 who was under treatment in the Martini Hospital or in the UMCG could join their diabetes team to Diabeter Groningen. Most of the patients were able to stay with their trusted therapists in the new Diabeter Groningen.  Naturally, Diabeter Groningen is also open to people with type 1 diabetes who are being treated elsewhere, both children and adults.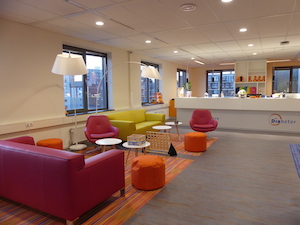 Address and accessibility:                      
Griffeweg 97  
9723 DV Groningen
By phone: +31 (0)88-280 7200
Our type 1 diabetes center is about a five-minute walk from the center of Groningen and about 700 meters from the UMCG. 
Diabeter Groningen