ALCOHOL AND DIABETES: CAN IT BE DONE? 
Yes you can, even if you have diabetes (and are over 18 years old). However, it is important that you are aware of a few facts. We give you a few tips that are useful to know before you start drinking alcohol. 
Good to know about alcohol:
Alcohol is broken down in the liver. The liver is needed to make glucose from proteins and fats, which is called gluconeogenesis. This is needed to make sure your glucose stays up when you don't eat for a long time (like when you're asleep).

Now that the liver is busy breaking down the alcohol, it will not be able to supply glucose. The result is a hypo.

The liver can break down 0.1 grams of alcohol per kg of body weight per hour. This means that for a 70-kg person it takes almost 1.5 hours to process the alcohol from 1 glass of beer (250 ml = 10 g alcohol). After an evening of alcohol consumption, the glucose-lowering effect can last at least 6 - 8 hours and in some cases even 24 hours.

When you drink alcohol, you don't feel your hypo as well.

If you are tipsy / drunk then you are also unable to think about your diabetes regulation properly. After all, your brain is your pancreas: you need to be able to think for yourself about how best to respond to extra exercise, extra carbohydrates, etc.

Alcohol can put you into a deeper sleep: you are much less likely to wake up from a hypo
Hypersensitivity can be confused with intoxication for the outsider. This can sometimes lead to very unpleasant situations. 
At higher temperatures, blood sugar drops faster.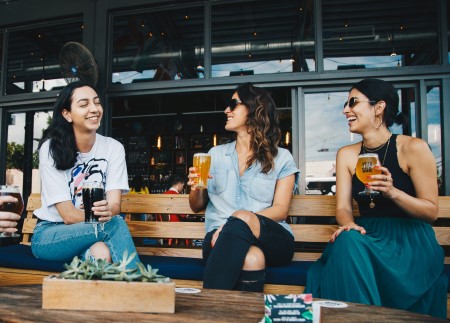 Our tips for drinking alcohol
Drink alcohol in moderation. If you don't know what you're doing anymore, you won't know how to manage your diabetes either!

Inform your friends that you have diabetes and that your blood glucose can get low because of alcohol. Make sure they know what to do or who to notify.

Don't go home alone.

The standard norm of alcohol consumption in men and women (>18 years) is 1 glass of alcohol per day.

Do not drink alcohol on an empty stomach or when blood glucose is low. After a drink your liver is mainly busy breaking down alcohol and has no time to make glucose. The chance of a hypo is then high.

Preferably combine alcohol with something to eat. 

If you drink alcohol in a mix, choose carbohydrate-containing drinks and not the light version. Especially if you are dancing and in a warm environment. This is because you need a supply of glucose to cope with your low reading.

Measure your blood glucose regularly and always before you go to bed.

Notify those around you (parents/spouse) that you are home and have been drinking.

If you use alcohol for the first time, it is advisable to do so in a familiar environment. You do not know how you will react. Your trusted environment knows that you have diabetes and also knows the above advice. Safety first!

The traditional shawarma sandwich before bedtime is not a bad idea at all. The moment you don't take in any carbohydrates from food, the liver will be able to release glucose from its own reserves, glycogen, for about six hours. This supply must be maintained by eating well. So exercising, not having a meal, but getting a beer at the bar and then going to sleep is a combination that you really should avoid: you have too little reserve in your liver and your liver can't solve it by making glucose itself. Unfortunately, there are examples of this not ending well. So eating something before you go to sleep is recommended if you have drunk alcohol. 

When exercising and then consuming alcohol, the risk of (nighttime) hypoglycemias is even greater. Do not skip meals during the day or in the evening. In this way the carbohydrate reserves are replenished after exercise.

Temperature: when the temperature is warm, blood sugar drops faster. So if you are dancing in a hot disco and you drink alcohol, your blood sugar will drop faster.

If you want to know how to adjust your insulin dose in case of high glucose levels or extra food after consuming alcohol, discuss this with your team. 
Tailored advice:
With your treatment team, you can look at what insulin is needed when you drink alcohol such as mixed drinks, beer or wine: after all, you can't just inject or bolus the insulin you're used to with this amount of carbohydrate.
Below is a table showing the number of milliliters per glass and the number of milliliters of alcohol per glass. We also show how many standard glasses you can get out of a can or bottle. This will help you calculate the number of grams of carbohydrates and alcohol you ingest.  
Not below 10 mmol/l
Ragnar Hanas gives the following advice in his standard work Type 1 diabetes:
Make sure that your blood sugar is not below 10 mmol/l before going to bed with ample alcohol consumption. If your glucose level is below 10 mmol/l, you are advised to eat more, preferably carbohydrates with a low glycemic index (think brown bread with cheese/fried eggs or French fries). So you keep your glucose supply up to date when the liver can't do it for you.
So if you want to drink alcohol in the future, consult with your diabetes team about their advice. It's good to feel safe before you go out. 
Alcohol and carbohydrates alcoholic beverages

|   | ml/unit | Alcohol % | ml alcohol | gr. alcohol |  gr. carbs | Number of standard glasses |
| --- | --- | --- | --- | --- | --- | --- |
| Glass of beer | 250 | 5% | 12,5 | 10 | 7,5 | 1 |
| Beer bottle | 330 | 5% | 16,5 | 13,2 | 10 | 1,3 |
| Beer 1/2 liter | 500 | 5% | 25 | 20 | 37,5 | 2 |
| Glass of white wine | 150 | 12% | 12 | 9,6 | 4 | 1 |
| Glass of red wine | 150 | 12% | 12 | 9,6 | 4 | 1 |
| Wine bottle | 750 | 12% | 90 | 72 | 20 | 7 |
| Glass of Port | 60 | 20% | 12 | 9,6 | 8 | 1 |
| Bottle of Port | 750 | 20% | 150 | 120 | 100 | 12 |
| Mixdrinks | 275 | 5,6% | 15,4 | 12,32 | See label | 1,2 |
| Shooter | 20 | 20% | 4 | 3,2 | 14 | 0,3 |
| Glass of strong liquor  | 35 | 35% | 12,25 | 9,8 | 0 | 1 |