ALWAYS YOUR CURRENT GLUCOSE VALUES AT HAND
At Diabeter we watch your blood glucose levels remotely. This enables us to offer you very fast (almost 'real time') tailor-made diabetes care. You can easily upload your glucose values from the glucose meter or insulin pump to your own Diabeter file, using our own system. 
Within a few minutes, you will receive a color-coded overview in your mail (ther@piemail), showing how your glucose values have been in the past weeks. Red means your values are too high, blue means your blood sugars are too low, and green values are good. So you can see at a glance how you are doing!
If you have any questions about the results, you can ask them immediately. Your diabetes nurse will then get back to you within one working day. Of course, you can also call our daily consultation hours. 
Are you connected to Diabstore for your diabetes materials? By linking our file with Diabstore, we ensure that you always have sufficient test strips in your possession. 
With the therapy mail we keep our finger on the pulse together. This is a very appreciated (and unique!) part of our diabetes care.
Therapy mail for type 1 diabetes: ehealth
DIABETER THERAPY MAIL: WINNER OF ACHMEA QUALITY AWARD 2014
That our e-health application for diabetes care is not only appreciated by people with type 1 diabetes, but also catches the eye of health insurers was demonstrated in 2014 when we won the Achmea Quality Award with our therapy emails. Out of 85 entries, we were chosen by a large majority as the best innovation in healthcare!
View our submission as a PDF here:  Achmea Quality Award 2014, Diabeter entry (874.2 KB)
From the jury report:
Diabeter, winner Achmea Quality Award 2014 "The jury is charmed by the immediate feedback after a measurement and the short-cycle improvement. The patient receives better diabetes care because his or her sugar level is more constant, and it is less stressful for the patient and his or her family because they have fewer checks at the clinic. Because these are mostly younger patients, they learn to take responsibility and control of their disease 'playfully'." 
'A GREAT SUPPORT FOR DIABETES REGULATION'
Every two weeks, Renate, mother of Naomi (5 years old), sends all the data from the insulin pump to Diabeter, after which she quickly receives the reports back with graphs and advice: "That is a great support, allowing us to keep the diabetes well under control. That way, Naomi can lead an almost normal life."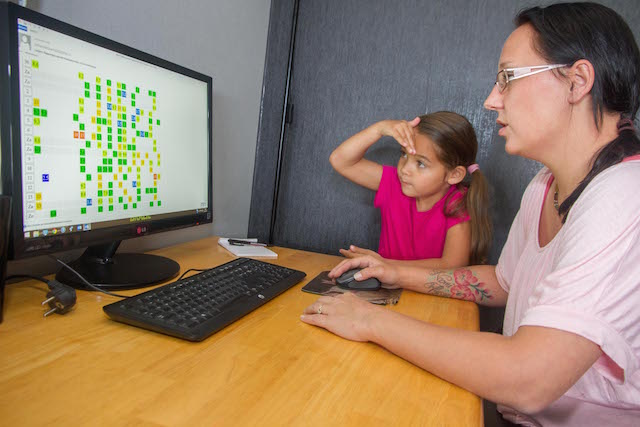 'AT A GLANCE YOU CAN SEE HOW THINGS ARE GOING!'
It's been a while since it was introduced, but I still want to mention how happy we are with the colorful overviews of the blood glucose meter upload. At a glance you can see how we are doing. Today I showed such an overview to a teacher at school. With a little explanation (every number is a puncture, green is good and all the other colors call for action ...) it was soon clear to him how erratic diabetes can be and that it has a significant impact on daily functioning, both physically and mentally (and thus also on learning performance). Something I couldn't explain properly in conversations before. Thanks again!
- Ellian Adang (mother of Luuk Adang)