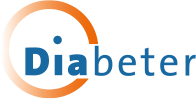 Information about cookies
What are cookies?
Many websites use cookies to improve the ease of use on the website. Thus, cookies ensure that a website "remembers" your preferences during your visit to the site or on repeated visits to the site.
Cookies can be used in different ways. Diabeter uses cookies to allow you to efficiently navigate between different pages, to save your user preferences and interests so that we can offer our communication as customized as possible.
Cookies ensure that the interaction between you and the website is faster and easier. Without the use of cookies, every time you go to a new page of the site, the website will see you as a new visitor.
What's in our cookies?
Our cookies are simple files that your browser stores on your computer when you visit the site. A cookie contains the information that the website wants to know on a subsequent visit. Only the website that places a cookie can read the information of that cookie. We can and will never use cookies to pass on information to third parties or to have advertisements appear on other sites.
What happens if you do not accept cookies?
Let us begin by saying that cookies are harmless and that you can delete them at any time. In order to comply with European and Dutch legislation and to enable the Diabeter website to function optimally, we have chosen to make this website accessible only if you accept cookies.
More about the different cookies and other measurement techniques
Functional cookies
Functional cookies are necessary for the use of the website you are visiting, for example to recognize that you are the same user who visited the previous page on the site, or to remember your preferences.
Performance cookies
Performance cookies are used to measure whether a displayed page leads to, for example, answering a question or a registration.
Analytical cookies
Analytical cookies are used for continuous improvement of the website. This keeps track of visitor statistics. This is information includes how many visitors visit the website, which pages visitors view, where they come from and what they click on, which browser and screen resolution they use. This information cannot be traced to an individual visitor.  
Profiling cookies
These are cookies that help Diabeter personalize its communication based on the interests of the visitor. We collect the possible interests of our visitors by reading out cookies. With this information we can offer you as relevant information as possible.  
Social Media Cookies
Embedded content on our website from social media such as YouTube and Facebook often contains cookies. We do not know what these platforms do with these cookies. The data are not transparent to Diabeter and we also have no influence on whether or not these cookies are placed. To place this embedded content (including the cookies) we need your permission according to the cookie legislation.
Back to previous page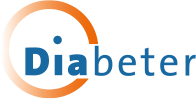 No cookies
You have chosen not to allow cookies from Diabeter.
Without your permission we cannot provide you with the service we would like to deliver and you cannot use the Diabeter website. 
If you do not want to continue, you can simply close this window. 
Back to previous page